Join us for Winter Reads!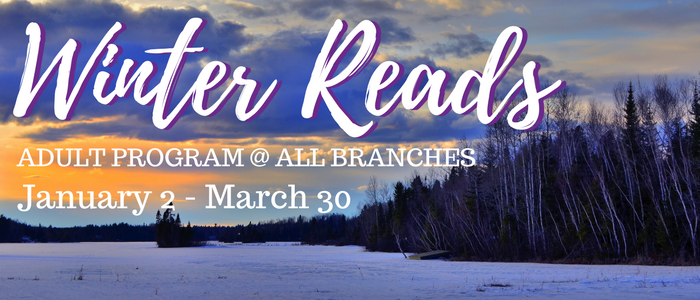 Local Libraries Begin "Winter Reads" for Adults on January 2. 
The Ruth Enlow Library of Garrett County will begin a Winter Reads program for adults at all branches in January 2018. "What better way to pass a Garrett County winter than to cozy up with one good book after another that you've borrowed from our library," said Bonnie Winters, the library's PR specialist. "Our success with the adult Summer Reading Program has prompted us to run a Winter Reads initiative system-wide, with incentives and informal book reviews at the conclusion."
The Winter Reads program runs from January 2 to March 30, 2018. Participants should sign up beginning January 2 at their local branch, at which time they will receive a reading log to complete and turn in no later than March 31. Those who return their logs, read or listen to at least 5 books of their own choosing, and write two short reviews (less than 100 words) will receive a Bistro ceramic mug imprinted with the library logo and be entered into a drawing for a $25 gift certificate at a local business. There is a limit of one mug per participant. Separate drawings will be held at each branch for a gift certificate. 
At the conclusion of the program, each branch will hold an informal Winter Reads Book Review, at which time attendees can share their thoughts about a book read during the program. Those who participate in this event will receive a second chance in the gift certificate drawing. Dates planned for the book reviews are as follows: Oakland – April 2, 6 p.m.; Accident – April 4, 5:30 p.m.; Grantsville – April 2, 6 p.m.; Friendsville – April 2, 5 p.m.; Kitzmiller – to be determined.
Support for this program is provided by the Western Maryland Regional Library, the regional resource center for the public libraries of Allegany, Garrett, and Washington Counties
A listing of events and services at the Ruth Enlow Library is available on the website at www.relib.net. Follow the library on Facebook at www.facebook.com/RuthEnlowLibrary.