Interactive programs at all branches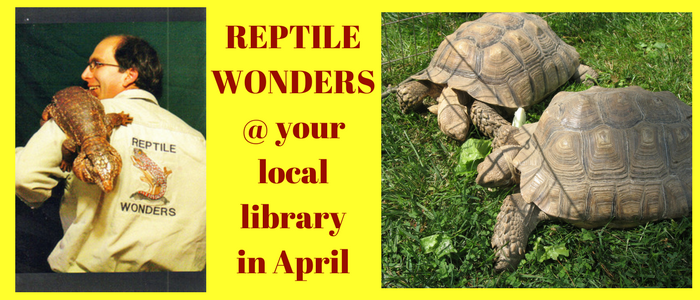 We are hosting shows by Reptile Wonders: The Nature Center on the Go, at all library branches during the week of April 9, National Library Week. Reptile Wonders is an environmental education center and wildlife rehabilitation facility that provides traveling interpretive, interactive, and hands-on programs. "Come out and join us for a hands-on, interactive show, where we can see and touch 9 – 12 large exotic reptiles and learn about their habitat and how they live," said Julie Iden, Children's Specialist at the Oakland Main Library.
The 45 – 60 minute shows are free and open to the public, and are scheduled as follows:
Reptile Wonders is dedicated to awakening the communities' sense of awareness to the natural beauties of the environment and our role amidst earth's biological diversity. In addition to providing educational programs, the organization provides a rehabilitation facility for injured wildlife, specifically injured reptiles (i.e.  Turtles with broken shells after an encounter with a motor vehicle). More information about Reptile Wonders can be found at http://www.naturecenteronthego.com.
"National Library Week this year emphasizes how 'Libraries Lead,'" said Library Director Thomas Vose.  "Whether fighting for access to information for everyone, providing vital technology free to the public, turning people on to new ideas with their classes, or serving as children's first contact with the world of reading, libraries are proud to lead the way to better communities across the country!"
Support for the Reptile Wonders program is provided by the Western Maryland Regional Library, the regional resource center for the public libraries of Allegany, Garrett, and Washington Counties.