Stop by with your insurance questions or concerns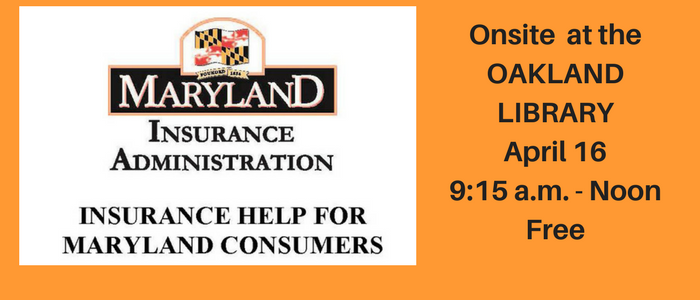 The Maryland Insurance Administration will be onsite at the Oakland Library, 6 N. Second Street, on Monday, April 16, 2018 from 9:15 a.m. – Noon, to offer insurance help to Maryland consumers. The public is invited to stop by at any time during these hours to discuss questions or concerns with Patricia Dorn, Outreach Staffer and representative for the administration. She will be able to help consumers with questions about rates, coverages, handling claims, and other issues.
The Maryland Insurance Administration is the Maryland state agency that regulates the business of insurance in Maryland.  It provides consumers information about all areas of insurance including auto, home, renters, life, health and long term care insurance.  It also educates Marylanders about their rights and investigates written allegations that an insurance entity has violated a contract or state law.