Relax, Focus, Enjoy!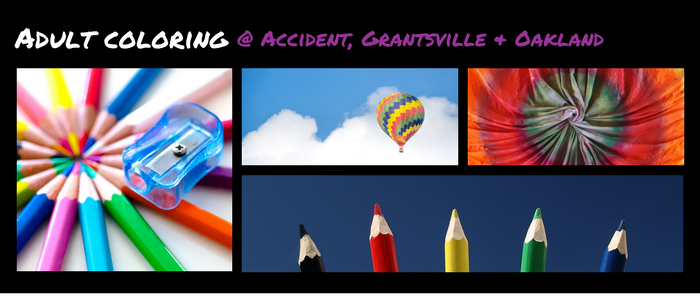 Enjoy an Evening of Adult Coloring at Local Libraries
The Ruth Enlow Library invites you to enjoy an evening of adult coloring at our Accident, Grantsville, and Oakland locations. The program at the Accident Branch is scheduled for the 3rd Wednesday of each month from 5 – 6:30 p.m. To register, contact Connie at 301-746-8792 or connie@relib.net. Grantsville's program is held on the first Thursday of each month from 3:30 – 5 p.m. To register, contact Kim at 301-895-5298 or kim@relib.net. The program at the Oakland Main Library is scheduled for the 4th Wednesday of each month. To register, contact Susanne at 301-334-3996 or skight@relib.net.
This free program is designed as a quiet time for adults to enjoy a relaxing activity. Coloring is not just for children these days. Adult coloring books have become quite popular. A story on cnn.com points out that "coloring has the therapeutic potential to reduce anxiety, create focus, or bring about more mindfulness. Like meditation, coloring allows the brain to switch off other thoughts and focus."
You do not need to bring supplies, as we will supply all required items. However, if you have favorite supplies, you are welcome to bring them.
Support for this event is provided by the Western Maryland Regional Library, the regional resource center for the public libraries of Allegany, Garrett, and Washington Counties.
You can find a listing of events and services at the Ruth Enlow Library on our website at www.relib.net. Follow us on Facebook at www.facebook.com/RuthEnlowLibrary.