Valuing diversity within the community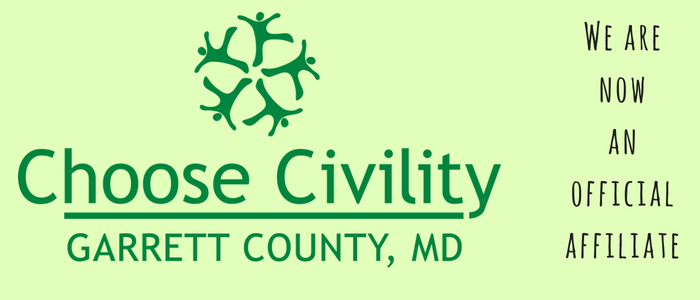 Ruth Enlow Library Becomes an Official Choose Civility Affiliate
The Ruth Enlow Library recently became a Choose Civility Affiliate, joining a number of organizations in the country who are engaged in this movement to value diversity within the community. A grassroots initiative started by Howard County in 2006, Choose Civility promotes respect, compassion, empathy, and inclusiveness as essential to quality of life. The initiative was inspired by the book Choosing Civility: The Twenty-Five Rules of Considerate Conduct by P.M. Forni, the cofounder of the Johns Hopkins Civility Project. "The Ruth Enlow Library is proud to take part in the 'Choose Civility' program," said Library Director Thomas Vose.  "Libraries are here to foster new ideas, open dialog, and bring communities together – open access to information and civic discussion is what makes democracy possible, after all!"
Choose Civility promotes 15 Principles of Civility to guide behavior. Inspired by Dr. Forni's book, these principles serve as the underpinning of the initiative and include behaviors such as listen, speak kindly, respect others' opinions, be inclusive, accept and give praise, take responsibility, and more.
The library plans to hold two events this summer as part of its Choose Civility programming. Both events are free and open to the public. On Friday, June 29, at 3:30 p.m., the Grantsville Library will show the family movie Because of Winn Dixie. Based on the perennial best seller by Newberry Medalist Kate DiCamillo, Because of Winn Dixie tells the story of a lonely young girl who adopts an orphaned dog she names Winn-Dixie (for the supermarket where she found him). The bond between the girl and her special companion brings together the people in a small Florida town and heals her own troubled relationship with her father.
For the second event, the Oakland Library will host a lecture titled Civility Today by Daniel L. Buccino, MA, MSW on Monday, July 23, from 10:30 a.m. – Noon. With P.M. Forni, Buccino was a founding member of the Johns Hopkins Civility Initiative in 1998 and became its director in 2014. He also is Clinical Manager of the Johns Hopkins Broadway Center for Addiction and an Assistant Professor in the Department of Psychiatry and Behavioral Sciences, Johns Hopkins University School of Medicine. Mr. Buccino has published, lectured, and consulted widely on issues of psychotherapy outcomes, manners and mental health, the ethics and etiquette of health care, and on civility in health care, the academy, and in the workplace.
In his lecture at the Oakland Library, Buccino will review centuries of interest in civility as well as persistent complaints about uncivil "others" at home, at work, on the roads, and on the Internet. "Given recent issues across the country," he notes, "there is a new urgency to reinforce the power of civility to help us navigate our lives together under the 'cosmopolitan canopy' of family, workplace, and community.  Getting along with others is essential for success and well-being. Yet too often, we take our relationship styles for granted, especially with those closest to us. Civility can enhance the social skills that are associated with optimal physical and psychological well-being.  In my talk, I will consider how the Civility Initiative has played a prominent role in the new Civility Movement. I will offer simple strategies for how to reclaim civility as a useful strategy in preventing and managing conflict at home and work, and as something that is good for both you and others."
Along with ongoing programming, the Ruth Enlow Library is promoting Choose Civility with printed materials at all branches. Bookmarks list suggested books for children, teens, and adults. Choose Civility flyers list the 15 Principles of Civility, and another flyer suggests Random Acts of Kindness.
For more information or questions about the Choose Civility initiative, contact Director Thomas Vose at 301-334-3996 x0102 or email thomas@relib.net. To sign up for the lecture on July 23, call 301-334-3996 x0117 or email events@relib.net. For questions about the movie screening, contact the Grantsville Library at 301-895-5298 or email rachel@relib.net.