Classics Buttons
READ A
CLASSIC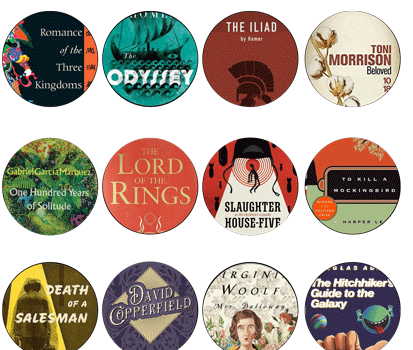 EARN A BUTTON
Collect them all!
Check out one of these works of classic literature
Enjoy it!
Return it to receive its corresponding button
Collect ten buttons to earn a lovely banner for displaying them!
THE LIST:
The Great Gatsby / F. Scott Fitzgerald
The Adventures of Tom Sawyer / Mark Twain
Pride and Prejudice / Jane Austen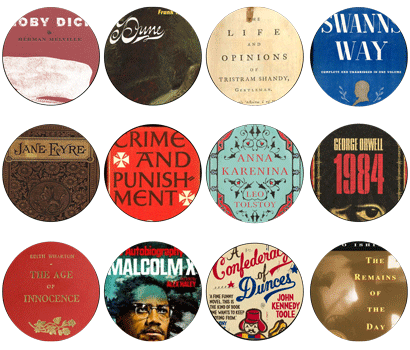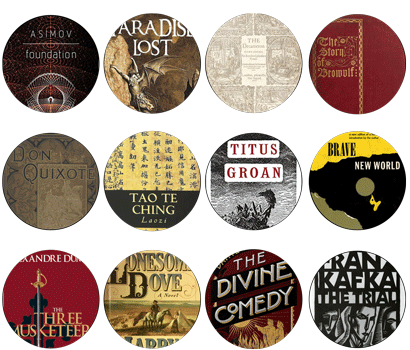 Ulysses / James Joyce
War and Peace / Leo Tolstoy
Great Expectations / Charles Dickens
The Scarlet Letter / Nathaniel Hawthorne
Gravity's Rainbow / Thomas Pynchon
Infinite Jest / David Foster Wallace
The Handmaid's Tale / Margaret Atwood
Invisible Man / Ralph Ellison
The Epic of Gilgamesh / Anonymous
Romance of the Three Kingdoms / Luo Guanzhong
The Lord of the Rings / J.R.R. Tolkien
Slaughterhouse-Five / Kurt Vonnegut
To Kill a Mockingbird / Harper Lee
Death of a Salesman / Arthur Miller
David Copperfield / Charles Dickens
Mrs. Dalloway / Virginia Woolf 
The Odyssey / Homer
One Hundred Years of Solitude / Gabriel Garcia Marquez
Beloved / Toni Morrison
The Hitchhiker's Guide to the Galaxy / Douglas Adams
Moby-Dick / Herman Melville
The Iliad / Homer
Dune / Frank Herbert
The Life and Opinions of Tristram Shandy, Gentleman / Laurence Sterne
Swann's Way / Marcel Proust
Jane Eyre / Charlotte Bronte
Crime and Punishment / Fyodor Dostoyevsky
Anna Karenina / Leo Tolstoy
Nineteen Eighty-Four / George Orwell
The Age of Innocence / Edith Wharton
The Autobiography of Malcolm X / Alex Haley
A Confederacy of Dunces / John Kennedy Toole
The Remains of the Day / Kazuo Ishiguro
Foundation / Isaac Asimov
Paradise Lost / John Milton
The Decameron / Giovanni Boccaccio
Beowulf / Anonymous
Don Quixote de la Mancha / Miguel de Cervantes
Tao Te Ching / Lao Tzu
Titus Groan / Mervyn Peake
Brave New World / Aldous Huxley
The Three Musketeers / Alexandre Dumas
Lonesome Dove / Larry McMurtry
The Divine Comedy / Dante Alighieri
The Trial / Franz Kafka
Fahrenheit 451 / Ray Bradbury
Les Miserables / Victor Hugo
The Pillars of the Earth / Ken Follett
The Grapes of Wrath / John Steinbeck
The Canterbury Tales / Geoffrey Chaucer
Main Street / Sinclair Lewis
USA / John Dos Passos
The Adventures of Sherlock Holmes / Arthur Conan Doyle
The Joy Luck Club / Amy Tan
Narrative of the Life of Frederick Douglass/ Frederick Douglass
Neuromancer / William Gibson
The Brothers Karamazov / Fyodor Dostoyevsky
Are we missing an important favorite?  Submit your suggestions for new buttons to info@relib.net!