Oakland (Main)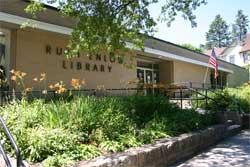 Located in the town of Oakland, the main branch of the Ruth Enlow Library serves as a hub of activity within the community. Residents and visitors come to the library for print, non-print, and electronic resources. The library offers books, magazines, videos, DVDs, books on CD, wireless internet, and online databases. Computers are available for public use, with Internet access and word processing software. Another computer with adaptive technologies for disabled users also is available, as is a Nintendo Switch for gaming.
 
Adult, children, and teen programs provide enrichment to local residents and visitors. Story hours, two children's book clubs, Summer Reading Club, STEM (science, technology, engineering, math) activities, a LEGO Club, and events for home-schooled children and their parents are held regularly. The library also schedules periodic book discussions and informational programs of interest for adults.
 
The Oakland Library has a genealogy section equipped with a digital microfilm reader/printer and a collection of local newspapers on microfilm.
 
Hours of Operation:
Mon & Wed: 9:15 am - 8:00 pm
Tue, Th, Fri: 9:15 am - 5:30 pm
Sat: 9:00 am - 4:00 pm