New Announcements!

The Library has two exciting announcements to kick off the year right!
First off, we're proud to announce our new initiative for early readers, "1000 Books Before Kindergarten."  This nationwide initiative encourages parents and caregivers to achieve this surprisingly realistic goal to help grow new readers who enter school with a huge advantage in life. All branches will be participating, and interested parents/caregivers can pick up a reading log at any branch and get started as of January 2 – we even have some books to give away to the first people who sign up (while supplies last, of course)!  After 500 books, the child gets a prize, and any parent/caregiver that reads 1000 books to their child under this program will receive a certificate of completion and their name will be given a permanent display for posterity – someday the child will be able to visit the Library and see what their parent/caregiver did for them!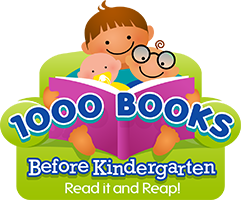 This new program ties into our second big announcement, our new "Libraries Transform" campaign.  Developed by the American Library Association, Libraries Transform is a campaign that illustrates the ways in which people can improve their lives and their communities through libraries.  Key to this campaign are the "Because" statements, which you'll be seeing on our flyers and social media more – here are a couple of my personal favorites:
Happy New Year, and may 2020 be full of wonder, reading, and great new discoveries!