ProQuest Black Freedom Resource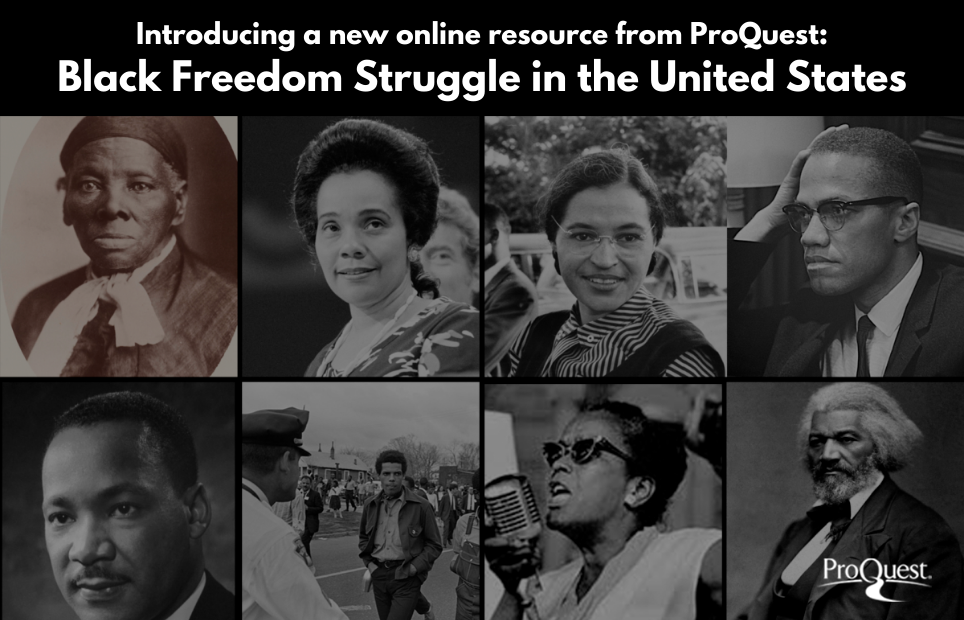 Now more than ever, students and researchers need access to insights and information from a wide variety of perspectives to better understand the role of the past in the present, and to prepare for challenges of tomorrow.
ProQuest invites you to explore the new Black Freedom Struggle website, featuring expertly selected open primary source documents. Visitors will find historical newspaper articles, pamphlets, diaries, correspondence and more from specific time periods in U.S. history marked by the opposition African Americans have faced on the road to freedom.
This resource supports a wide range of students, from middle and high school to college, as well independent researchers and anyone interested in learning more about the ongoing Black Freedom Struggle. These reliable, easily discoverable materials may be used for homework assignments, personal inquiry, research papers and National History Day type-projects focused on African American history in the U.S.
Educators may use this material to teach a specific topic or person, such as Frederick Douglass or the Abolitionist Movement, to introduce students to using primary sources and to help novice researchers develop essential critical thinking and information literary skills. 
*Available at no cost, the content is curated around six time periods: 
Resistance to Slavery and the Abolitionist Movement (1790-1860)
The Civil War and the Reconstruction Era (1861-1877)
Jim Crow Era from 1878 to the Great Depression (1878-1932)
The New Deal and World War II (1933-1945)
The Civil Rights and Black Power Movements (1946-1975)
The Contemporary Era (1976-2000)
https://blackfreedom.proquest.com/
Why did ProQuest develop this resource?
We're saddened and outraged by the senseless acts of violence and oppression that have affected the Black community for centuries – and believe that knowledge and trusted information can help guide progress and change. ProQuest is uniquely positioned to help.
By centering on the experiences and perspectives of African Americans, we hope the Black Freedom Struggle website imbues the study of Black history with a deeper understanding of the humanity of people who have pursued the fight for civil rights, and the significance of movements like Black Lives Matter.