Special Announcement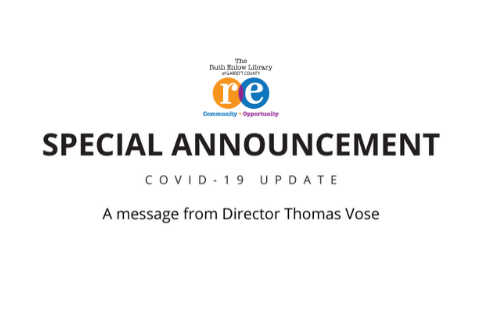 November 2020:
Due to the rising number of COVID-19 cases in Garrett County, all branches of the Ruth Enlow Library will be returning to curbside service only as of Wednesday, November 18th, at our normal operating hours.
As a reminder, here's what our services will look like:
• Patrons can call when they arrive at the Library and staff will place materials in a bag on a table outside for pickup.
• Drive-thru window service is available at the Grantsville branch.
• Inter-branch deliveries will continue, as will deliveries from Washington and Allegany Counties as well as interlibrary loan.
• Our phone services will continue for anyone who needs assistance.
• Our bookdrops will remain open, but late fees will be suspended while we're in the "curbside only" model. Materials will still be quarantined for 48 hours before being checked in.
• Library Wifi is still available from outside of the buildings for those of you who need to connect.
Your Library is still here for you, however!
• If you don't have a card, you can register for one at https://catalog.wmrl.info/p…/patronaccount/selfregister.aspx
• You can still place holds and have them sent to any branch for pickup using our catalog at http://catalog.wmrl.info/polaris/
• Or you can explore our 24/7 online options! We have ebooks, e-audiobooks, movies, music and more available for free with your library card here: https://www.relib.net/download
• And whether your kids are learning at home or being homeschooled, you can find great resources to help them get the best possible education at home at: https://www.relib.net/learningathome
Please stay safe, all of you – wear masks in public, maintain social distance and minimize social contact for a while, and we'll all get through this – we're looking forward to reopening and seeing you all again!
Thomas Vose, Director
August 2020:
We're certainly glad to be back!  It's great to see our patrons again, and we appreciate all of the support people have showed in respecting our social distancing and mask regulations.  We've been hard at work here at the Library to bring back as many of our services as we can, and have some good news to report:
Interlibrary loan is back!  While there may be some delays in getting materials based on the status of the lending institutions, we can now once again request materials from not only Allegany and Washington Counties through www.relib.net, but also through MARINA at https://www.sailor.lib.md.us/services/marina/
We have been working very hard during the closure on digitizing materials of significance to Garrett County, and have made a lot of progress.  We hope to have a special announcement regarding this project very soon…
Lawyer in the Library is back, and we are able to provide one-on-one (socially distanced, of course!) help to our patrons on civil legal issues thanks to the great people at Maryland Legal Aide.  These sessions take place twice a month on Tuesdays from 1:00-5:00 – check our calendar for the dates!
One Maryland, One Book is once again upon us!  The Library still has some copies of this year's book, The Island of Sea Women by Lisa See – I've read it myself and have to admit it really made an impact.  I'm looking forward to discussing it at one of our three discussion events – while one will be online, of course, two more will be in person at nearby parks (with social distancing, of course)!
Finally, we know there are a lot of people out there who are going to have to deal with a new reality this fall when it comes to educating their kids – I'm one of them myself, with three children currently in the schools.  Whether learning remotely through the plan GCPS has put in place using Schoology or homeschooling, the Library is working to get the materials you need and to support learning at home in any way we can.  We're putting together lists of recommended links, purchasing new materials, working to obtain new Wifi hotspots for checkout, and coordinating with libraries throughout the State to put your Library to work for you.  Make sure you take a look at the incredible online resources that can be found at www.relib.net, and we are always happy to partner with people and groups in the community to ensure that our kids get the best education possible in spite of this pandemic!
July 2020:
We're happy to welcome you back!
The Ruth Enlow Library of Garrett County is pleased to announce that we will be returning to our regular hours and welcoming patrons back into the building as of Monday, June 22, 2020.
It is critical, however, to remember that we are still in the midst of a pandemic.  The Library takes the safety precautions we have put in place very seriously, and we ask our patrons to do the same for the health of our staff and our community.  The possibility exists that depending on the number of cases in Garrett County, we may be forced to return to curbside service or close once again for an extended period, and we apologize in advance should this become necessary.
What restrictions will be in place?
Masks are required in the building for both staff and patrons over the age of two.
All patrons are asked to maintain a social distance of 6' between one another.  We have taken steps to help with this, and as a result, some computers have been taken offline and some seats removed.  Additionally, we have marked waiting points for our patrons in line to check out materials to help ensure social distancing.
Wipes and Saran Wrap will be available for patrons to use in sanitizing and protecting public keyboards. 
Computer assistance from staff may be limited due to the need for social distancing, and we apologize for that in advance.
Due to the Health Department's guidelines, only up to 50% of any building's maximum capacity will be allowed in at any time.
We ask patrons to please ensure that children with them respect the social space of others.
Patrons or staff showing the symptoms of COVID-19 are asked not to join us, or may be asked to leave if necessary.
Coffee will not be available for purchase. 
What if I have books to return?
The book return slots have been reopened and we appreciate your returning all materials there.  Due to health concerns, we will not be able to accept materials returned by hand.
What's going on with late fees?
Late fees will be resuming after July 1.  Since we will still be quarantining all materials returned for three days, there will be a delay between the time they're returned and the time they're checked in – we will ensure that you are not fined for those quarantine days.
Can I request materials from Washington or Allegany County? 
We have started to once again receive materials from Washington County, although due to the delivery schedule having to be modified by the pandemic, they may be delayed more than usual.  We are currently unable to receive holds from Allegany County at this time.
What about interlibrary loan?
Interlibrary loan will unfortunately remain unavailable for the immediate future.
When will you be opening the buildings more fully and/or withdrawing your social distancing measures?
Any further loosening of restrictions will depend on guidelines from the State and from the Garrett County Health Department. 
When will you be holding events again?
Again, that will depend on the guidelines set by the State and the County's Health Department, as social distancing will have to be loosened further for programs to be viable.  At this point, sadly, we do not anticipate holding any Library programs at our facilities through the summer. 
What if I have materials to donate? 
Unfortunately, we remain unable to accept donations at this time. 
How do I know the books are safe?
All materials, once returned, will still be quarantined for 72 hours to ensure that any potential for contamination is removed, following best practices recommended by the State Library Resource Center. 
Thank you for your patience everyone – we've missed you a lot and are very glad to see you all again!
Thomas Vose, Library Director